You are our Visitor
The July 22, 2014 Edition
of
The Newsleaf
Vol. 11 Issue 29
Between the Issues
Sign ups for Effingham Cub Football are Sunday, July 27th at 4:00 pm at the Elementary School. See you there!! Please spread the word. Anyone grades 3rd-6th can be on a team.
They have a facebook page as well: facebook.com/cubfootball
FRONT PAGE
Make Hay While the Sun Shines.. Col. 3:23
AG ANNOUNCES PUBLIC HEARING ON GUN SIGN REGULATIONS
TOPEKA – (July 14, 2014) – A public hearing on the proposed permanent gun signage regulations has been scheduled for September 17 at 9 a.m., Kansas Attorney General Derek Schmidt said.
The hearing will be in the second floor auditorium of Memorial Hall, 120 SW 10th Ave., Topeka.
Last month, Attorney General Schmidt released his proposed regulations for signage that may be used to restrict the carrying of firearms – open, concealed or both – into buildings, in compliance with a new law passed by the Kansas Legislature earlier this year. Temporary regulations adopting these signage rules were approved by the State Rules and Regulations Board and took effect July 1. State law requires a 60-day comment period and a public hearing before the regulations become permanent.
The proposed regulations are available at http://1.usa.gov/1tFyBof. Members of the public may submit comments on the proposed regulations on the website, by email to ksagcc@ag.ks.gov or by mail to Kansas Attorney General Derek Schmidt, 120 SW 10th Ave., 2nd Floor, Topeka, KS 66612.
AG SUES MEDICAL-ALERT DEVICE COMPANIES
FOR VIOLATING NO CALL ACT
TOPEKA – (July 18, 2014) – Kansas Attorney General Derek Schmidt has sued a group of Utah-based medical device companies for violating the Kansas Do Not Call Act.
In 2013, the attorney general's office received multiple complaints from Kansans who had received telemarketing calls saying they could be eligible to receive a medical alert device. Schmidt issued a consumer alert in August 2013 warning Kansans about the calls. A copy of the consumer alert can be found at http://1.usa.gov/1qkounF.
Schmidt filed suit against Benjamin D. George; Jody C. Rookstool; KMR Medical, LLC; KPM Capital, LLC; Arizona Medical Supply, LLC d/b/a Western Medical Supply; and Medical Pendant Billing, LLC d/b/a US Lifecare. The suit was filed last month in Shawnee County District Court, and the final defendants were recently served with process.
The lawsuit alleges the defendants violated the Kansas No Call Act by calling Kansas consumers registered on the Do-Not-Call list attempting to sell them medical alert devices. The lawsuit seeks injunctive relief, civil penalties and investigative fees.
Consumers who have been called by or done business with any of the companies identified above are encouraged to file a complaint with the attorney general's Consumer Protection Division at www.InYourCornerKansas.org at (800) 432-2310.
LITTLE THINGS
Small improvements a little at a time can add up to a pleasing appearance and good first impressions to visitors to town. Last week the old elementary school on Main St. had a couple old trees removed. They needed to be removed because their diseased condition caused them to be unsafe. The building is also getting a new handicapped access on the front side.
The Town and Country Center has also been getting some updates. The parking area in the rear of the building was removed and a new concrete slab put in. The front of the building was recently given a fresh coat of paint and Deanna
Paul, manager of the facility, is shown in the photo at left putting new signage of the bench on the front side of the center.
KEVIN UPDATE
We heard that Kevin Kuykendall recently has moved to Katy, Texas to spend time with his sister, Lindi. His address is 23706 River Place Dr.; Katy, TX 77494.
THANK YOU
Helen Diebolt has been in touch with our office and asked us to pass on her appreciation for all the cards, letters and well wishes at the time of her recent birthday celebration. It was a great event and your kindness was appreciated.
ATTENTION GIGSTADS-CHANGE OF PLANS
The location of the Gigstad Family Reunion to be held on August 10th has been changed to the Effingham Union Church Ed Bldg. Pot luck dinner starts at noon.
UNIT NEWS
The Farmerette FCE held their annual family picnic, July 13th, in the Town & Country Senior Center in Effingham. Fifteen members plus spouses Leroy Ellerman, Francis Lorenz, Terry Willis, Ed Conner, Jon Allen, John Oakleaf, Harvey Fasse, new
member spouse Paul Hansroth and Diane Nielson, County Extension Agent. Scholarship guests were Bridgett Kelly and mother Denise, Jamie Navinskey and parents Scott and Lori, Conrad Kabus and Presley Rodecap. Co-President Sally Ellerman welcomed the guests and everyone sang The Doxology before guests were invited to go through the food line first. Following the dinner guests were recognized and scholarships awarded. This years awards were presented to Conrad Kabus, grandson of Nancy Fasse; Bridgett Kelly, granddaughter of the late Mildred Kelly; Jamie Navinskey, granddaughter of Charlene Gigstad; Aiden O'Brien, grandson of Becky O'Brien; and Presley Rodecap, grandson of the late Vera Hurst. The students told about future education goals and the schools they will attend. Members made plans for a float in the County Fair. This will be a county FCE project with Terry and Farmerettes participating. The next meeting will be in September, hosted by Virginia Foley and Carol Lintner at the Foley home.
The students are shown left to right - Conrad Kabus, Presley Rodecap, Bridgett Kelly and Jaimie Navinskey. Not pictured was Aiden O'Brien who was unable to attend.
SUNNY HILL THIMBLE CLUB DINED AT KFC
Mary Keimig, Everest, treated the members of the Sunny Hill Thimble Club to a finger licking chicken dinner at Kentucky Fried Chicken, July 9. There were five members present. The next meeting is September 4 at the Town and Country Senior Center in Effingham. Alice Johnson is the hostess.
HAPPY HOUR CLUB
Eight members and one guest, Janelle Moranz, enjoyed supper at the Trail's Café when the Happy Hour Club held their July meeting. Roll call was answered with "Your Plans for the 4th." Mary Noll reported 390 Best Choice coupons on hand. Leita Weber thanked the club for her gift for her 85th birthday. Mary Noll won the door prize. The next meeting will be September 1st at the home of Alice Wessel with a potluck supper at 6 p.m.
July Meeting of the USD 377 School Board
The USD 377 school board met in a regular session for July this last Monday evening July 14, at 6:30 PM in the central office building. The July meetings are always the time designated for re-organization of the board of education where they hold the officer election and make committee assignments. During Monday's meeting, the board elected Jeff Martin to serve as board President and Tana Hoffman as Vice President. Additionally the board selected Megan Gracey to serve as Board Clerk and Kathy Enzbrenner as the Deputy Clerk. Brian Handke was appointed to continue as the treasurer of the organization. Other professional designations were: Larry Mears-School Attorney; Dustin Avey-Bond Counsel; Gina Reikhof-Bound Financial Advisor; and Mark Franzen-District Architect.
The board summarily approved a list of committee and various position assignments as part of the normal organizational routine of a July meeting. The approved consent agenda established several policies, graduation requirements, an organizational chart and many other designations and resolutions. A schedule of meetings for the next school year was approved. Normally the board will be meeting at 6:30 PM on the second Monday of each month unless circumstances dictate either an extended meeting or a special meeting.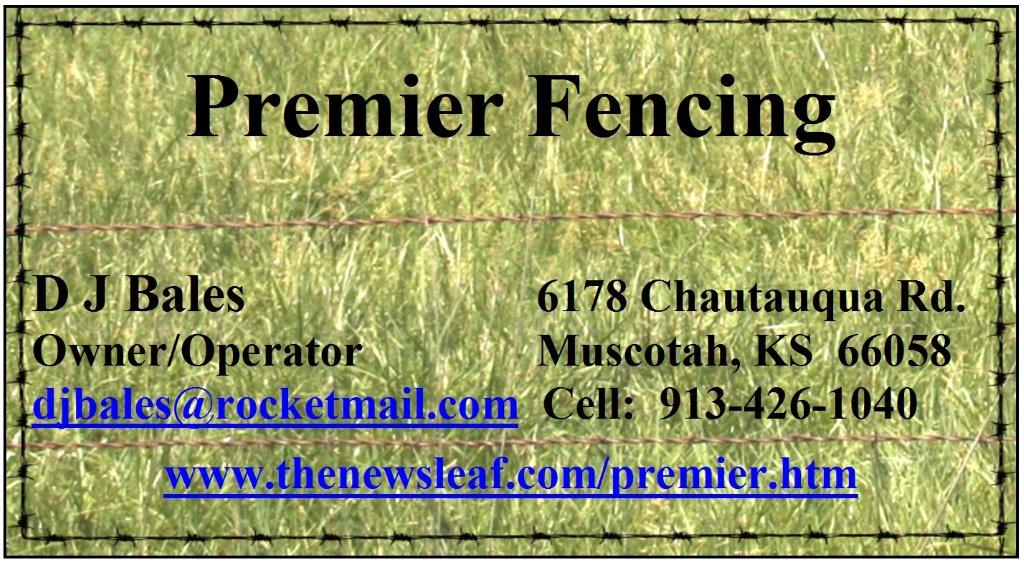 The board then reviewed and approved with some modifications district and building level handbooks.
The board then directed Mr. Wiseman, Superintendent, to proceed with the completion of the necessary paperwork for a Community Facilities Direct Loan and Grant Program Application for Federal Assistance in the amount of $9.8 million with the USDA. Many deadlines and requirements must be met so the district can be prepared to use this financing facility if the bond election planned in November is approved. Along the same lines, the contract to use HTK Architects was approved.
The board then spent some time discussing the draft of the proposed budget for the coming year and after some discussion, it was unanimously approved to cause the budget to be published. It will be further discussed and possibly approved at the annual budget hearing just prior to the regular August meeting.
In other items the board discussed the continuation of a contract with Pepsi; the renewal of the health insurance contract; KASB policy recommendation; and fuel bids.
The board then approved a Cross Country Cooperative Agreement with Maur Hill - Mount Academy.
The board entered an executive session to discuss negotiations and then again for personnel matters.
Following the executive session, the board approved a contract establishing Mike Eckert as the high school head girls basketball coach.
The board then adjourned the meeting to July 21, 2014 at 6:30 PM in the central office to take care of unfinished personnel business and others items that may need attention.
MUSCOTAH NEWS ~ CJ Hanson
Hope all of you have been able to enjoy the wonderful weather we've been having. Looks like summer returns this week.
There's not a lot going on in Muscotah right now. Gives us a little break. The one event coming up is the annual Joe Tinker Day. This year it will be on Saturday, July 26th from 5 to 8pm in the city park. The celebration will be sponsored by Muscotah Outreach and will be much more laidback than last year's record crowd. The vintage teams don't return two years in a row. We will plan for a larger event next July. There will be a community ballgame so bring your glove and bat—you just might want to get in on the action. If not, bring your lawn chair and enjoy watching the game. There will be hot dogs, chips, and a drink available for $3 and following the game will be an ice cream social including all the toppings to make a great sundae for a free-will donation. Come enjoy the fun, food, and fellowship!
Thought for the week: It is not what happens to you, but how you respond to what happens to you.
LOVE TOUCHES, LOVE PATS, LOVE HUGS ~ Jack Albright
One nice thing about getting old is that most of us are able to see ourselves being reinvented in the form of grand and perhaps great grandchildren.
I do not believe in reincarnation, the belief that humans return to earth in a variety of life forms like mosquitoes and elephants. But six years ago my son and his wife presented me with a beautiful granddaughter. Birth took on a different meaning.
I gazed upon that beautiful baby that was perfectly formed; covered in flawless skin; all her parts were new; properly placed; functioning perfectly… and I was speechless in wonderment and amazement.
Modern science tells us that our DNA is transmitted from parent to children. This means that some of my DNA was passed on to my son, who in turn passed it on to my granddaughter. That means that the beautiful bundle of love that I cuddled in my arms was, in a small way, the reincarnation, or at least a re-formation, of myself.
She also is the new beginning of the natural cycle of life. I, the eighty-year-old grandfather, represented the dying end of the life cycle, while she represented all that is new. She became for me a new beginning. I held the infant who represented my new physical birth, my opportunity to live once again through another human being. I have tried to convey this concept in poetry: To A…… From Grandpa Jack, July 8,2008
I held you gently but firmly, in my hands and arms, and looked down upon your beautiful countenance.
I marveled as I beheld you, as the precious gift from the very heart of God, to loving and receptive hearts like mine.
You and I fit perfectly into the cycle of things on earth. I am the old and fading, dry and brittle. You are the young and growing, moist and tender.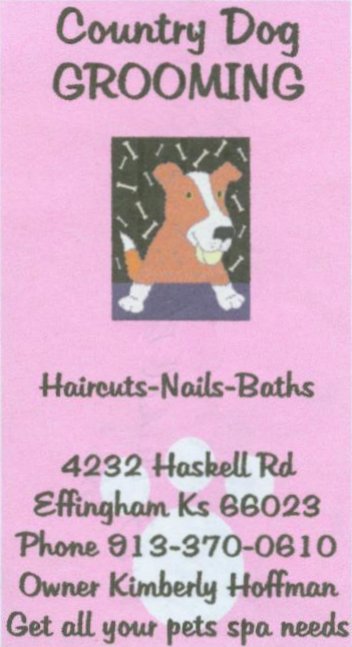 I will soon vanish from sight. You must remain and enlighten the world with who you are, and what you can and will become.
Now I do something important that a minister can do. I dedicate you to the God of love who sent you to bless His world.
God will reveal to you who you truly are and what your mission is to be. Who you are and what you will become is likely not for me to see.
But when you do well, at what you do, listen carefully for clapping hands coming from God and Grandpa Jack.
We were so happy that she and her parents were with us on her sixth birthday. She will remember this visit and I prayed that we might to make lasting memories.
I began the familiar game when an adult points their index finger at a child and in a scary voice say, "I'm going to tickle you till you can't stop laughing." After several pretended struggles she pointed her finger at me. I touched the tip of her finger with mine and said, "Now we can give each other a love touch." This began a new game. Next we gave love-pats on hands, shoulder and head and then love-hugs. We practiced love-touches across the room by simply pointing our fingers toward each other.
We were sad when we watched them enter through the large sliding glass doors of the airport. They were out of sight but I gazed through the thick glass. Suddenly my granddaughter appeared in a large window beside the doors. Her arm was outstretched and her pointed index finger was sending me a love-touch. Precious memories, how they linger, how they flood our souls with treasures.
LETTERS TO THE EDITOR
FROM THE BOONDOCKS ~ Selma Tacker
Wow is all I can say after watching Eric Dylan perform at the Brown County Fair last Thursday and then again at Buzz's in Effingham on Friday night. Eric grew up in Muscotah, and how lucky we are to have him come back from Nashville and entertain us. This young man followed his love of music to Nashville and has been in the music business a number of years. His talents as a song writer and performer are truly awesome.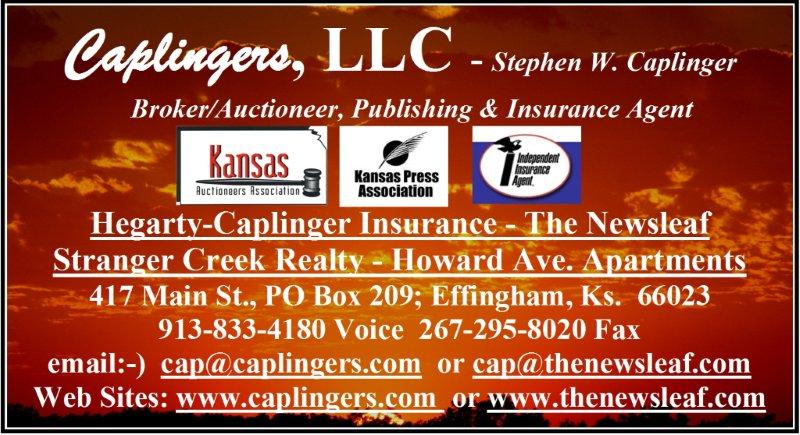 Eric and his sister Katie grew up right across the street from us in Muscotah, and what a treat it was to watch them grow up. Katie also lives in Nashville where she practices law.
As a teenager Eric and his friends set up their instruments in their garage and played music, rock music back then and sometimes loud! But we never minded. Occasionally his grandmother Bonnie, who lived in the next block, would hear the music. She would call and tell Eric, "if I can hear the music up here, the neighbors can here it, so you best turn it down." We all laugh about it now. I tell Eric's parents if they could put up with all my roosters crowing and my turkeys on grasshopper patrol going through their yard and terrorizing them we were probably even.
We are so blessed to live in the good old U.S.A. where you are free to choose your dreams and be kind enough to come back home and share your success. As we see so much killing and destruction in the Middle East and all the people from South America trying to come here, I hope you all appreciate what we have.
Muscotah has some children in town that we also need to congratulate. The Jackpot barrel series fund raiser for the 2nd annual URA rodeo was held at Circleville. Saddle club members Kasey Smith and Brooke Coffman competed on 7-1-14. Kasey placed 1st in the 6 and under 2D class and Brooke placed 6th in 2D. On 7-8-14 Kasey placed 3rd in 1D on her horse Jewells and 2nd on her pony Sadie. Congratulations to these youngsters. And I truly believe a statement I heard their grandfather Cecil make. "There's nothing better for the inside of a kid than the outside of a horse."
I still think small towns and rural America are the best places to raise kids and follow your dreams. A good place to retire also, cost of living is cheaper, and it's so peaceful. If you haven't started a "bucket list" now would be a good time especially if you are near retirement. I scratched one off my list in June. Always wanted to see horse country in Kentucky and do the Kentucky Horse Park in Lexington. It was wonderful, and even if you aren't a horse lover you would enjoy it. Next on my list is the Narrow Gauge Train ride round trip from Durango, CO to Silverton. If anyone out there has a bucket list going and would like to share I'm sure our readers would enjoy hearing about them.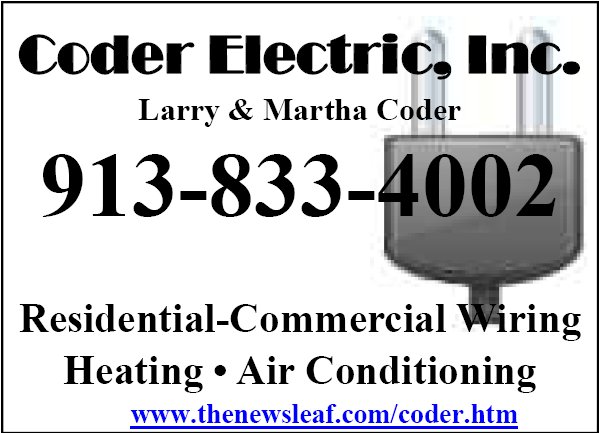 I will end my Boondocks musings with a Pet Peeve (we all need to blow off steam once in a while right?) Then some happy thoughts.
Pet Peeve - People who are so competitive and will do anything to get ahead even if it's wrong and will hurt someone else.
My happy thoughts and I love this - Today just might be the last day you can run or jump or race around. Or frolic.
In an uncertain world, one never knows when that day might come.
So frolic hard and often. After all, you never want to find yourself waking up with frolic regret!
KANSAS BUDGET DEFICIT CLAIMS ARE COMPLETE FABRICATIONS
Legislative Research Dept. confirms Kansas will not have deficits
July 16, 2014 - Wichita - New research from Kansas Policy Institute quotes Kansas Legislative Research Department (KLRD) in refuting claims that Kansas will have a $1.2 billion deficit for FY 2019. Some legislators have been telling media and citizens that KLRD is predicting large deficits, but in reality, the numbers being cited were prepared "at the request and direction" of a legislator.
KLRD Director Raney Gilliland attributes the report to Senator Laura Kelly, who instructed them to use a former KLRD methodology that was dropped - partly because leaving negative ending balances gave a false, albeit unintended, impression of deficits in the outlying years.
KPI President Dave Trabert said, "It is irresponsible of legislators to scare citizens with talk of deficits when they know that these deficits cannot happen. An adjustment is needed in FY 2016 because of ongoing bi-partisan reluctance to force government to provide services at a better price, but that adjustment can be made without any service reduction or tax increase."
Trabert recently published the findings the KPI Blog, explaining how budget deficits are fabricated and offering suggestions for preventing false claims of deficits in the future. "Any KLRD report prepared at the request and direction of a legislator and gives the appearance of deficits should have a disclaimer along the lines of "The State of Kansas will not have deficits and this report should not be used to claim or infer anything of that nature." We also suggest that once a legislator-directed profile or other report is publicly used or referenced, it should be immediately subject to Open Records requests and made available by KLRD."
KLRD was asked to review this prior to publication and identify any inaccuracies. They have no issues with the facts as presented but that should not be construed as agreeing with any opinions or interpretations.
Kansas Policy Institute is an independent think-tank that advocates for free market solutions and the protection of personal freedom for all Kansans. Our work centers on state and local economic policy with primary emphasis on education, fiscal policy and health care. We empower citizens, legislators and other government officials with objective research and creative ideas to promote a low-tax, pro-growth environment that preserves the ability of governments to provide high quality services.
To speak with Kansas Policy Institute, please contact James Franko at (316) 634-0218.
SAVOR THE FRUITS OF YOUR LABOR ~ John Schlageck, Kansas Farm Bureau
Now that gardens across Kansas are bearing vegetables, it's time to taste, enjoy and appreciate the fruits or our labor.
It seems like just a few short weeks ago folks walked to the machine shop, shed or garage and plucked a spade out of one of the dark corners and headed for the garden plot. Now that our home-grown produce is ready, it's a real treat to pick armloads of radishes, potatoes, tomatoes and cucumbers.
The tomatoes my mother grew remain the best I've ever eaten. Hot days coupled with cool nights, low humidity and 180 degrees of sunlight ensured these tomatoes tasted terrific. The wonderful, rich sandy loam soil of northwestern Kansas where I grew up played a part as well.
Every winter Mom started each tomato plant from seeds from her mother's garden – talk about heirloom tomatoes. Talk about flavor.
While texture, variety and acidity are all paramount, for me the litmus test of a terrific tomato is the amount of juice within. It's also the amount of juice left in the serving bowl once the tomatoes are gone. As kids, we'd wrestle every meal to see who drank the juice out of the bowl.
In the late '50s and '60s, fresh produce wasn't as plentiful as today. Families grew many of the foods they ate. Some couldn't afford to go to the store and buy fresh fruits and vegetables.
Today, while most people can afford to buy all their produce, some would still rather grow their own.
One of the main reasons people choose to do so is because home-grown fruits and vegetables taste better when they're picked fresh off the vine. There's also nothing more satisfying than to walk out to your own garden, gather a handful of onions or radishes and head for the kitchen.
Another thing folks are discovering is how good foods taste raw. If you don't believe me, just bite into a fresh carrot, radish or slice up a cool, refreshing cucumber and slip it into your mouth. The proof is in the tasting.
Some of us were born with a sweet tooth. I'm one.
Fresh fruit, ice cream and chocolates are my favorites. If you've ever picked strawberries, and sprinkled them on a heaping bowl of vanilla ice cream, you know what I'm talking about. Sometime popping a few fresh strawberries ripe from the vine into your mouth is even better.
When I was a kid, Dad always planted sweet corn. We called them roasting ears. Corn pulled fresh from the stalk, steamed or grilled and spread thick with butter – hey someone bring me a napkin please, I'm drooling.
For those of us concerned about saving energy, eating our fruits and vegetables fresh out of the garden could be another alternative. Once you acquire a taste for fresh produce, it's nearly impossible to go back to cooking the bejesus out of your fruits and veggies.
So the next time you're out working in your garden this summer and sweat begins to drip down your face, remember all those wonderful, fresh berries, peppers, radishes and tomatoes you'll soon eat on your own table. Harvesting the fruits of your own labor will be worth it.
John Schlageck is a leading commentator on agriculture and rural Kansas. Born and raised on a diversified farm in northwestern Kansas, his writing reflects a lifetime of experience, knowledge and passion.
Missouri man ordered to repay $75,000
SCOTT CITY – (July 17, 2014) – A Missouri man was ordered to repay a total of $75,000 to two Scott County consumers last week after pleading guilty to conspiracy to commit theft, Kansas Attorney General Derek Schmidt said.
Donald Anthony Moses, 52, Neosho, Mo., was sentenced by District Magistrate Judge James R. Collins to 24 months of probation with an underlying sentence of 18 months in prison. Moses pleaded guilty in June to a charge of conspiracy to commit theft.
Two other defendants have been charged in connection with the case. One has been convicted and awaits sentencing; the other is presumed innocent unless and until proven guilty.
The state alleged that Moses stole funds from two Scott County senior citizens in a lightning rod insurance scam arising from a door-to-door sale. The case was investigated by the Scott County Sheriff's Office, Kansas Bureau of Investigation and the attorney general's Consumer Protection Division. Assistant Attorneys General Robert Novak, Adrian Serene and Jackie Williams prosecuted the case.
Americans for Prosperity-Kansas
Announces 2014 Taxpayer Champions
TOPEKA, KS – The Kansas Chapter of Americans for Prosperity (AFP), the premier free market grassroots organization committed to smaller government and economic freedom, has compiled its score card for the 2013-2014 terms of the Kansas House of Representatives. The 2013-2014 score card included votes on bills regarding spending, tax reform, Medicaid expansion, education policy, and energy mandates.
Legislators scoring a "B" or higher earned a spot on AFP-Kansas' Taxpayer Champions list.
"Americans for Prosperity-Kansas is committed to issue advocacy and education, and a big part of issue education is tracking the voting record of the politicians who make decisions in Topeka about issues such as spending, taxes and health care," said AFP-Kansas State Director Jeff Glendening. "It's easy for politicians to make claims that they support free markets and lower taxes, but our list of Taxpayer Champions have proven their commitment to less government and more freedom."
The list of lawmakers who have been named Taxpayer Champions can be viewed here:
http://americansforprosperity.org/kansas/2014-afp-kansas-taxpayer-champions/
Americans for Prosperity (AFP) is a nationwide organization of citizen-leaders committed to advancing every individual's right to economic freedom and opportunity. AFP believes reducing the size and intrusiveness of government is the best way to promote individual productivity and prosperity for all Americans. For more information, visit www.americansforprosperity.org
News from the Kansas Department of Agriculture - Officials help insure poultry health at county fairs
Kansas Department of Agriculture officials help insure poultry health at county fairs Manhattan, Kan. - County fair season is kicking off in Kansas, and it is important to ensure the health of your animals, including exhibits in the poultry barn. Pullorum -Typhoid disease can affect chickens, turkeys, quail, guinea fowl, pheasants, peafowl, grouse, parrots, sparrows, ostriches and ring-necked doves. "As we enter county and state fair season, it is important to have your birds tested for pullorum -typhoid disease," said Dr. Paul Grosdidier, with the Kansas Department of Agriculture (KDA). "We look forward to working with 4-H exhibitors and their families each year to help keep their chickens and foul healthy. All poultry exhibitors must have proof their birds are Pullorum-Typhoid clean at public shows."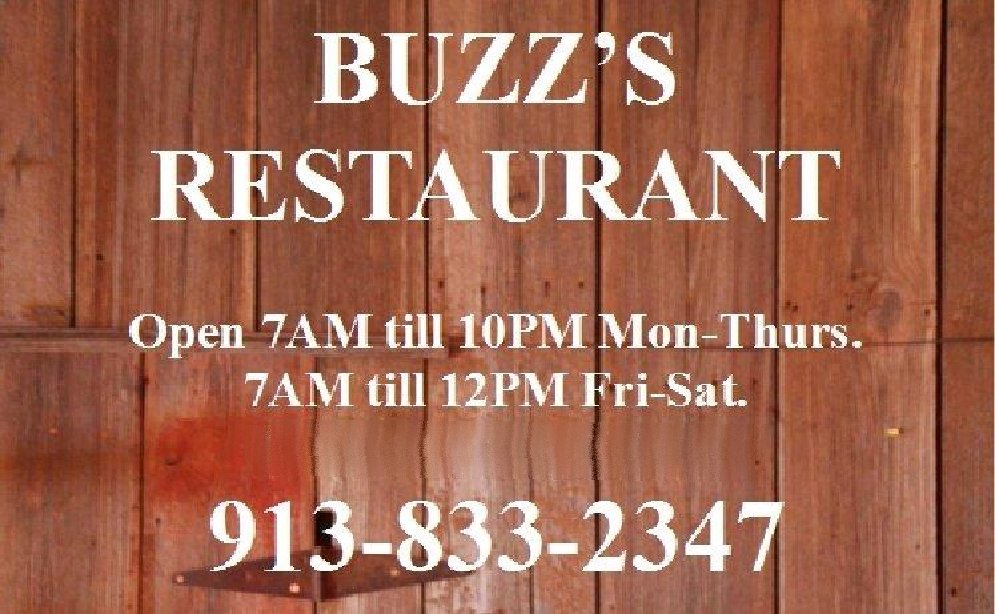 CRP Emergency Haying and Grazing
Approved for 44 Kansas Counties
Manhattan, Kan., July 17, 2014 – Adrian J. Polansky, State Executive Director of the Kansas Farm Service Agency (FSA), announced today that emergency haying and grazing of Conservation Reserve Program (CRP) acreage has been approved for 44 counties in Kansas effective Wednesday, July 16.
The Kansas FSA State Committee used their authority with the D2 Severe drought designations on the U.S. Drought Monitor Map (http://droughtmonitor.unl.edu/) to authorize the following counties once the primary nesting and brood rearing season concluded on July 15:
Barber, Barton, Cheyenne, Clark, Comanche, Cowley, Edwards, Ellsworth, Finney, Ford, Gove, Gray, Greeley, Hamilton, Harper, Haskell, Hodgeman, Kearny, Kingman, Kiowa, Lane, Logan, McPherson, Meade, Morton, Ness, Pawnee, Pratt, Rawlins, Reno, Rice, Rush, Russell, Scott, Sedgwick, Seward, Sherman, Stafford, Stanton, Stevens, Sumner, Thomas, Wallace and Wichita.
"This authorization provides relief for many Kansas livestock producers who have suffered through severe drought conditions," said Polansky. "The drought has depleted hay supplies and affected the growth of hay and pasture in parts of Kansas. Many livestock producers cannot maintain their current herds without implementation of CRP emergency haying and grazing."
Emergency haying in approved counties is allowed through August 15, 2014. Participants must leave at least 50 percent of each field or contiguous CRP field un-hayed for wildlife. Hay must be removed from the field within 30 days from the end of the haying period. Hay cannot be sold. Producers without livestock may rent or lease the haying privileges.
Emergency grazing in approved counties is allowed through September 30, 2014. The grazing timeframe begins when the individual request is approved. All livestock must be removed at the end of the grazing period or when the minimum average height reaches 5 inches. Producers without livestock may rent or lease the grazing privileges.
Emergency haying and grazing is not allowed on the same acreage, and any other approved CRP haying or grazing practice is not allowed on the same acreage. Practices eligible are: CP-1, Establishment of Permanent Introduced Grasses & Legumes; CP-2, Establishment of Permanent Native Grasses; CP4B, Permanent Wildlife Habitat (Corridors), Noneasement; CP4D, Permanent Wildlife Habitat Noneasement; CP10, Vegetative Cover-Grass Already Established; CP18B, Establishment of Permanent Vegetative Cover (Contour Grass Strips), Noneasement, CP18C; Establishment of Permanent Salt Tolerant Vegetative Cover, Non-easement; CP38E, SAFE.
CRP participants in approved counties shall contact the local FSA county office to request emergency haying or grazing on an individual contract basis prior to haying or grazing. Participants will work with the Natural Resources Conservation Service (NRCS) to develop a forage management plan. If the CRP cover is destroyed, the practice must be re-established at their own expense to remain in compliance with the CRP contract. CRP haying and grazing policies are available on-line at www.fsa.usda.gov/ks.
PUBLIC MEETINGS TO DISCUSS PHEASANTS
Public invited to attend pheasant information meetings
PRATT – If you have an interest in pheasants and pheasant hunting, plan to attend one of two public meetings to be conducted in conjunction with Pheasant Tour 2014. The first public meeting will be on Monday, July 28, at the Comfort Inn Convention Center, 2225 S. Range in Colby. The second public meeting will be on Tuesday, July 29, at the Pauline Joyce Fine Arts Auditorium, 801 Campus Drive, Garden City Community College campus, Garden City. Both meetings will begin at 7 p.m. and end at 9 p.m.

Pheasant Tour 2014 is a cooperative effort between the Kansas Department of Wildlife, Parks and Tourism (KDWPT) and Pheasants Forever, designed to inform the public, decision-makers, and conservation partners about the status of this popular game bird and to examine what can be done to improve pheasant populations. Pheasant numbers have declined significantly across the Great Plains due to the impact long-term, severe drought has had on habitat and reproductive success of all upland birds.
The tour will have two components: First an invitation-only bus tour that will visit sites providing examples of conservation efforts and habitat projects that benefit pheasants, as well as updates on current research projects. Sites will include a variety of state, federal and private conservation programs. The second component will be the two public meetings.
The meetings will begin with presentations from KDWPT biologists on the status of pheasants in Kansas, along with information about current efforts and programs that benefit pheasants. Time will be allotted at the end of each meeting for questions and suggestions.
OBITUARIES
Kirk A. Porter, 55, of Atchison, KS, passed away on Saturday, July 19, 2014 at the Heartland Regional Medical Center, St. Joseph, MO, surrounded by his loving family and friends.
Funeral Services will be 10:30 AM, Thursday, July 24, at the Becker-Dyer-Stanton Funeral Home with Rev. Ken Watkins officiating. Burial will follow in the Mt. Vernon Cemetery, Atchison. Visitation will be from 6:00 to 8:00 pm, Wednesday, at the funeral home. The family suggests memorial contributions in honor of Kirk be made to St. Mark's Lutheran Church and may be sent in care of the funeral home. Words of comfort and remembrance may be left online at www.beckerdyer.com.
Kirk was born on September 8, 1958 at the Atchison Hospital, the son of Charles K. and Patricia L. (Lewman) Porter. Kirk attended Trinity Lutheran Grade School, graduated from Atchison High School in 1976, and graduated from Emporia (KS) State College with a Bachelors degree in General Studies and minor in Psychology in 1981. Kirk then attended Air Traffic Control School. In 1993, Kirk graduated from Central Missouri State University with a Masters degree in Safety Administration.
Kirk had worked for several years with the American Red Cross before working for the Missouri Pacific Railroad from 1984-1992. After receiving his Masters in Safety Administration, Kirk started working for Unit Rail Anchor Company of Atchison, and then Snorkel and Johnson Controls, both of St. Joseph. Kirk was currently the business manager in his wife's CPA firm in Atchison.
Kirk and Patsy A. Ernzen were united in marriage by Pastor Baird at 2:30 pm on May 13, 1989 in his mother's backyard after Patsy had just graduated from Benedictine College at 12:30pm. A reception followed at the VFW in Atchison. Together, they were blessed on June 10, 1994 with a beautiful daughter, Margaret Grace (Maggie), who was born in Shawnee Mission, KS. Another lovely daughter, Molly Eva Ruth, was born on September 8, 1999 at the Heartland Hospital, the same day as her dad's birthday.
Kirk was a wonderful husband, father, and son. He greatly enjoyed being outside hunting, fishing, and working in his yard and going to the farm. He had many friends that accompanied him to the farm for target practice and cooking wild game. Kirk also enjoyed taking his family on adventurous vacations. He was always willing to help anyone that needed help. Kirk was an active member of the Atchison Kiwanis Club and St. Mark's Lutheran Church. Kirk loved life, his family, and friends very much. He always had a smile for everyone.
Kirk was preceded in death by his father, Charles K. Porter; mother-in-law, Sherry Lapp; grandparents, Grace and Leonard Lewman and Charles and Ruth Porter.
Survivors include his wife of 25 years, Patsy A. Porter; daughters, Margaret Grace 'Maggie' Porter and Molly Eva Ruth Porter, all of the home; his mother, Patricia Porter, Atchison.
COUNTY COMMISSION ACTIVITY
Unapproved minutes of the Tuesday, July 15, 2014 meeting of the Atchison County Commission
(Scheduled for review and approval at next meeting on July 22, 2014)
Pursuant to the law, the board met in regular session at 1:00 pm with Chairman Jeff Schuele and Commissioners Mike Bodenhausen and Henry W. Pohl and Pat Henderson, County Counselor present. County Clerk Pauline M Lee recorded the minutes.
Board recited the Pledge of Allegiance.
Minutes of July 8th were reviewed, Commissioner Pohl made a motion to accept the minutes as read, Commissioner Bodenhausen second the motion with Chairman Schuele called for a vote, all voted aye, motion carried, 3-0.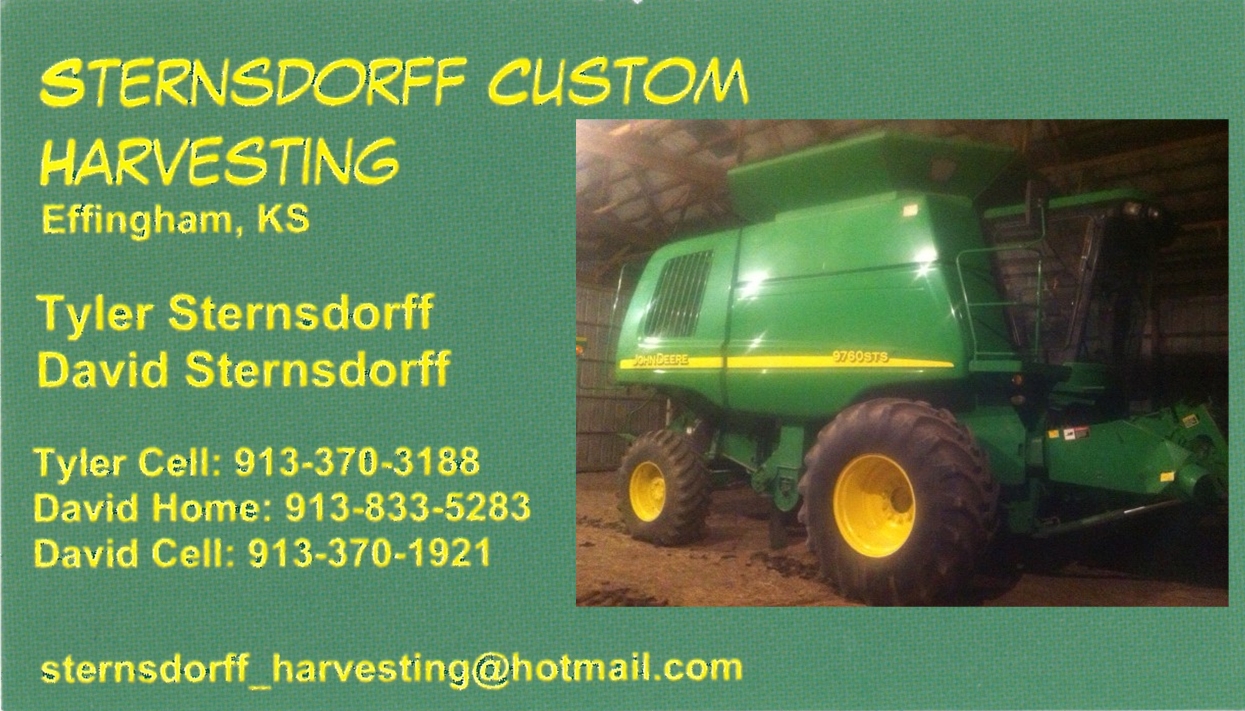 Jason Roloff appeared before the board and presented a vacation of a road, old road #116, between the SW and SE Quarter sections of Section 8-6-20, Commissioner Bodenhausen made a motion to accept the petition as presented, Commissioner Pohl second with Chairman Schuele calling for a vote, all voted aye, motion carried. County Counselor Pat Henderson will see that it is published and board said within 21 days they will have a hearing on the matter.
Board discussed the counter that was loaned to the Atchison County Historical Society from the County Treasurer for storage since 2005. Chris Taylor with the Historical Society presented to the board a form giving The Historical Society full donation of the counter. Commissioner Pohl made the motion to approve the request and give the counter to Atchison County Historical Society, Commissioner Bodenhausen second with Chairman Schuele called for a vote, all voted aye, motion carried.
Matt Dorssom, Road and Bridge Superintendent appeared with a request for a new chain saw and parts, total cost $644.90, request approved.
Wes Lanter, Emergency Management Director with an inter local agreement with City of Atchison on Code Red warning system, city will be paying $6,320.00 per year and county will be paid $5,540.00, also has contracts for the weather warning system and another contract for the code red system, the contracts will be for three years that need to be approved by the commissioners. Commissioner Bodenhausen made the motion to have Chairman Schuele sign the Interlocal Agreement in behalf of the county with Commissioner Pohl second with Chairman Schuele calling for a vote, all voted aye, motion carried.
Commissioner Pohl made a motion to approve the three year contract with the emergency weather warning system and to have Chairman Schuele sign in behalf of the county, Commissioner Bodenhausen second the motion with Chairman Schuele calling for a vote, all voted aye, motion carried.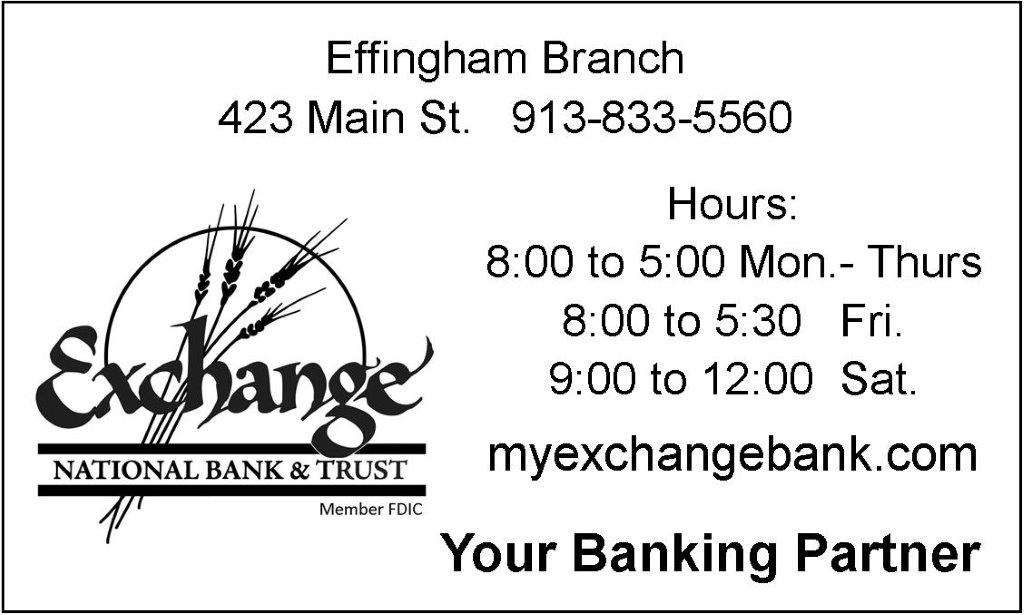 Commissioner Bodenhausen made a motion to approve the three year contract for code red and to have Chairman Schuele sign in behalf of the county, Commissioner Pohl second with Chairman Schuele calling for a vote, all voted aye, motion carried, 3-0.
Wes also presented to the board a request for smartlink support for time clock in the amount of $3,352.50, request approved.
Courtney Calhoon, Administrative Assistant appeared with bills to be signed by the board for July 16th.
Board signed a request from Atchison Senior Village for nursing in the amount of $4225.00.
Board signed requests from Joe Bowen, Maintenance for concrete work for the front sidewalk on North side of the courthouse, City will be pay for half of the sidewalk, they were as follows: Kearney Construction: $4,980.00; Atchison City:
$$4,644.15 and City of Atchison for $334.17.
Charlie Perdue appeared before the board to ask questions, one was what Wes Lanter's title was, board said IT and Emergency Management Director, Charlie wanted to know why he is involved in paying bills, Chairman Schuele said he was being trained in bills and payroll. Charlie also asked if there were bills not paid, he said he did talk with Jerry Kuckelman, County Attorney concerning the problems he had with some of his not being paid, board said that they had some problems with bills and not getting credit to right account. Charlie asked the board that since they were salaried why they don't spend more time in office except for one day, Commissioner Bodenhausen said that they are on a lot of boards and are on call twenty-four/seven, so they do a lot of county business even though they are not here except for one day. Charlie did ask about the EMS building, board said that they are leasing it from the hospital but they are looking at renovating the recycling center or purchasing land and building a building for the ambulances.
Chase Brunick, Solid Waste Manager appeared to have board sign off on the Solid Waste supplementary project. Chase also told the board that the scale house was closed on two different Saturdays due to emergencies, Commissioner Pohl said he wants to be sure that the scale house is open on Saturdays, Chase said he see that someone was there to do the weighing. Commissioner Pohl asked Chase if there was any damage to Mr. Martin's trash containers, Chase said he hasn't heard if there was any damage.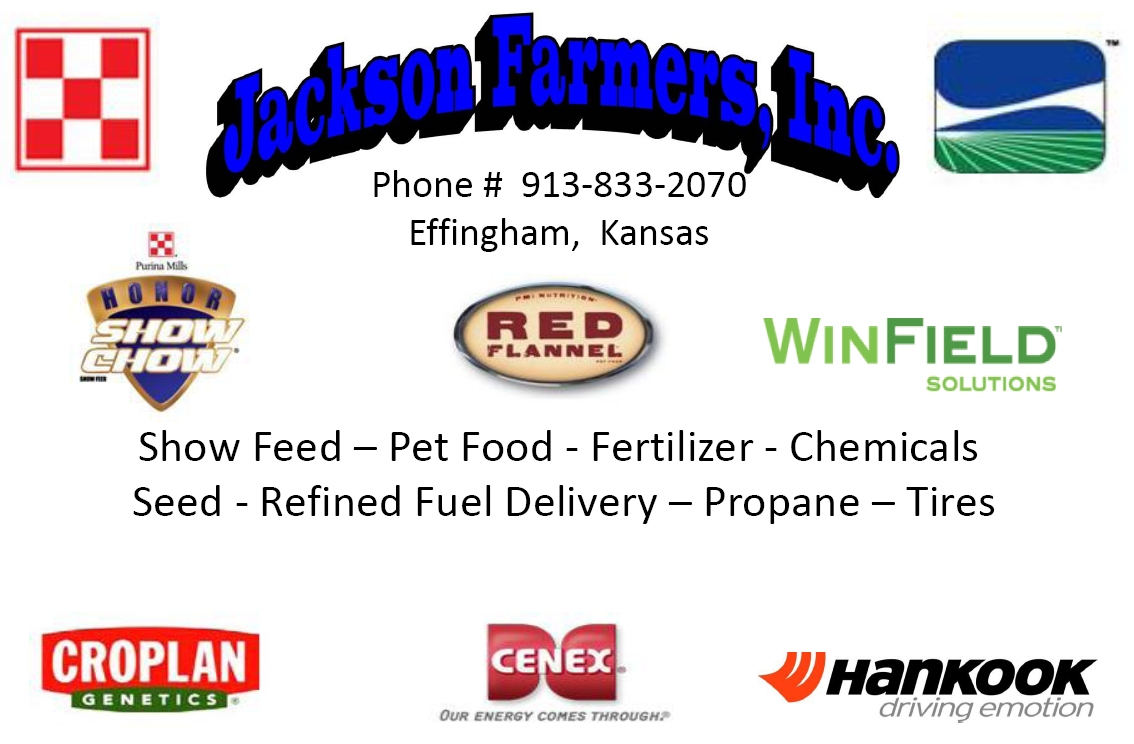 Commissioner Pohl made a motion to go into executive session on an attorney client privilege with County Counselor Pat Henderson present for 20 minutes, KSA 75-4319B and to come out at 3:35 pm, Commissioner Bodenhausen second with Chairman Schuele calling for a vote, all voted aye, motion carried.
Board resumed at 3:35 pm with no action taken.
Board decided to do a Budget Workshop on Wednesday, July 16th from 2:00 pm til 4:00 pm to go over some of the 2015 proposed budgets that were presented.
Commissioner Bodenhausen made a motion to adjourn the meeting at 4:00 pm with Commissioner Pohl second and Chairman Schuele calling for a vote, all voted aye, motion carried.
HomeWords: A Project of the Poet Laureate of Kansas by Wyatt Townley
This week our topic is home as sky. To address this idea, we're using the American Cinquain, a 5-line form whose syllables are divided among its lines: 2, 4, 6, 8, and 2.
Kansans keep their eyes on the sky with its constant fluctuations. This week our poets explore tornados. Jack Warring is a 15 year old from Pittsburg who has lived in Kansas all his life. I like how his riddle-like, repeated set-up leads to the final line. Notice how his choice to center the poem on the page suggests a funnel forming.
Dreary,
dark skies, one word.
Winds increase, go faster.
Everyone inside for one word:
twister.
Alarie Tennille has spent half her life in the Kansas City area and is the author of Running Counterclockwise (2014, Aldrich Press). Here the poem's "waterspouts" call up the history of Kansas as an inland sea.
So far
from an ocean,
Kansas becomes a sea,
gales whipping waterspouts out of
the sky.
Poets and poets-to-be of all ages from across the state are invited to submit to HomeWords. For guidelines, visit www.kansashumanities.org.
The Kansas Humanities Council is a nonprofit organization that supports community-based cultural programs and encourages Kansans to engage in the civic and cultural life of their communities.
WILDLIFE AND PARKS REPORTS
DOVE FIELD #1 AT CLINTON UNDER SPECIAL HUNTS FOR OPENING DAY
Hunters will be required to draw for access to this field for Sept.1 only
PRATT – It's no gamble to say that Sept. 1, opening day of dove season, holds an important spot on most Kansas hunters' calendars. The weather is nice, birds are in flight, and it's the first opportunity of the season to trade a clay target for the "real deal." Although an exciting time, the overwhelming popularity of this season can mean some public hunting lands will see a significant temporary increase in traffic as the season kicks off. This increase in traffic is a good sign birds are out, but it also can pose safety issues. Last year, for example Clinton Wildlife Area's Dove Field No.1 drew nearly 80 hunters on the 7-acre wheat and sunflower plot on opening day.
To maintain a safe environment for all hunters, Dove Field No. 1 at Clinton Wildlife Area will be placed into the special hunts program for opening day only. Ten open dove hunt permits will be issued for Sept. 1, with five being designated for the morning hunt and five for the evening hunt.
Morning hunts will open one-half hour before sunrise and close at 11:30 a.m. Evening hunts will begin at 12 p.m. and close at sunset. Hunters may apply for both hunts but will only be drawn for one. Following opening day, hunters do not need to draw access to hunt the field. Non-toxic shot is required for dove hunting on Dove Field No. 1.
For more information, visit ksoutdoors.com and click "Hunting / Special Hunts Information," or contact area manager Jason Tarwater at (785) 887-6882.
REGISTRATION OPEN FOR YOUTH DOVE HUNT
Family members are welcome to attend this half-day hunt
PRATT – The Jayhawk Chapter of the Quail and Upland Wildlife Federation (QUWF) and the Kansas Department of Wildlife, Parks and Tourism (KDWPT) invite youth age 16 and younger to register for their 7th Annual Youth Dove Hunt. The Sept. 1 opening day hunt will take place at Clinton Wildlife Area west of Lawrence and will begin just before sunrise and run through mid-day. Mentors will accompany all participants, but non-hunting family members are encouraged to attend, as well.
Shotguns, non-toxic shells, and eye and ear protection will be provided to participants, who are encouraged to dress in camouflage or dark-colored clothing.
To register for this event, contact QUWF member Dr. John Hill at (785) 550-5657 or by e-mail at hills4ku@hotmail.com.
Participants age 16 must have a Kansas hunting license, unless exempt by Kansas law and a Harvest Information Program (HIP) permit. For more information, visit ksoutdoors.com and click "Services / Education / Hunter."
The dove season is Sept. 1-Oct. 31 and Nov. 1-9. For information regarding migratory bird hunting regulations, license and stamp requirements, legal methods of take, non-toxic shot and more, visit ksoutdoors.com and click "Hunting / Migratory Birds / Federal Migratory Bird Regulations."
SAND CASTLE AND SCULPTURE CONTEST AT LOVEWELL STATE PARK
Playing in the sand just might win you a prize July 20
PRATT – All of your hard work as a child filling buckets with sand and mud might come in handy at Lovewell State Park on July 20. The public is invited to participate in the annual Sand Castle and Sculpture Contest, Sunday, July 20 at the Southwinds Beach area. Participants can compete individually or in groups of up to five people. Register at the state park office from 8 a.m.-12 p.m. the day of the event.
Entries will be judged at 2 p.m., followed by a prize giveaway. Grand prizes will be awarded for the top sand castle and top sand sculpture courtesy of KRFS Radio Superior and KREP Radio Belleville.
A state park vehicle entrance permit is required for the event. Daily permits can be purchased for $5.00, annual permits for $25.00.
For more information, contact Thane Loring at (785) 753-4971.
HISTORY IS FUN ~ Robert D. Caplinger
Part 8 of The Battle of Westport - Col. Levi S. Treat
As I have noted in previous columns, the Atchison County members of the Kansas Militia were a part of the 12th Regiment. The 12th Regiment was composed of eight companies, all from Atchison County.
The Field and Staff Officer of the 12th Regiment were:
L. S. Treat, Colonel, Atchison; G. M. Woodworth, Lt. Colonel, Colorado; I. C. Batsell, Major, Monrovia; C. B. Keith, Adjutant, Atchison; C. I. Weaver, Quartermaster, Baxter Springs; Charles Williamson, Reg. Surgeon, Washington; John Helwig, Quartermaster Sergeant, Topeka; Company A, Captain Asa Barnes, Atchison; Company B, Captain Samuel Hollister, Atchison; Company C, Captain C. J. Weaver, Atchison; Company D, Captain Hezekiah J. Crist, Huron; Company E, Captain Robert White, Doniphan County.; Company F, Captain Aaron S. Best, Monrovia; Company G, Captain Martin C. Willis, Kennekuk; and Company H, Captain A, J. Evans, Atchison.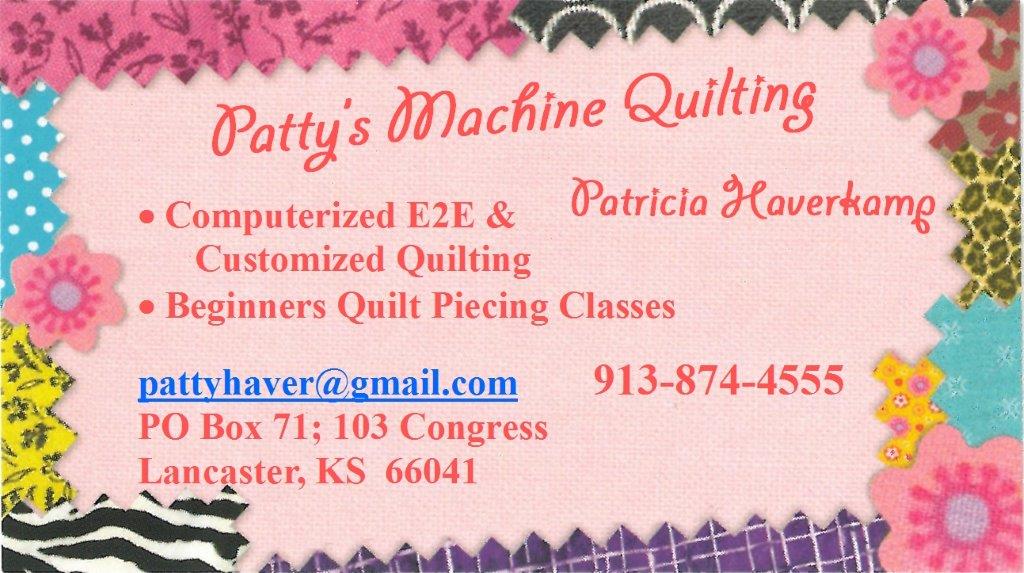 Colonel Levi S. Treat was the commanding officer of the 12th Regiment during "The Battle of Westport." The following information is from the Ingalls book on the "History of Atchison County," concerning Col. Treat, to wit:
"Levi Treat was born in Connecticut in 1814, the son of Amos Treat. The family moved to the Western Reserve, which comprised twelve counties in Northwestern Ohio. The Treat family located in that section in 1828, when Levi S. was fourteen years old and there his parents spent the rest of their lives.
When a young man, Levi S. Treat was in the employ of the Government prospecting for copper in the Lake Superior region. He was thus engaged for eight or ten years and in 1856 came to Atchison County, Kansas. Shortly after arriving here, he preempted 160 acres of land, part of which is now in the city limits of Atchison. Here he followed farming and fruit growing in the early days and prospered and acquired considerable land. He dealt quite extensively in real estate and was one of the early promoters of Atchison, and built the first brick business house in that city. This building was located two doors east of the Byram Hotel. Levi was a successful business man and one of the substantial citizens of Atchison County.
"He married Mary D. Cooper, who was born in England, the daughter of Thomas and Mary A. Cooper. The Cooper family immigrated to America when Mary was a child. They made the trip across the Atlantic in a sailing vessel, the voyage taking six weeks. Her mother had friends in Atchison, and came here in 1857, where she later met and married Levi S. Treat.
"Levi and Mary Treat were the parents of six children. Daughter Kate married Samuel K. Woodworth; Frank moved to Arizona; Daughter Alice married George Guerrier, of Atchison; daughter, Grace, married William Berry of Atchison; daughter, Ethel married Harry McDuff, of Omaha, Neb.; and a son, Thomas, who continued the work of his father, especially in the fruit business."
(Special Note: If any readers of this article are a descendant of Col. Treat, I would love to hear from them.)
DO YOU WANT YOUR ISSUE OF THE NEWSLEAF MAILED TO YOUR HOME OR BUSINESS? SUBSCRIPTIONS ARE NOW AVAILABLE AT THE RATE OF $42.00 FOR 1 YEAR. To subscribe send your check to: The Newsleaf; PO Box 209; Effingham, Ks. 66023.
———————————————-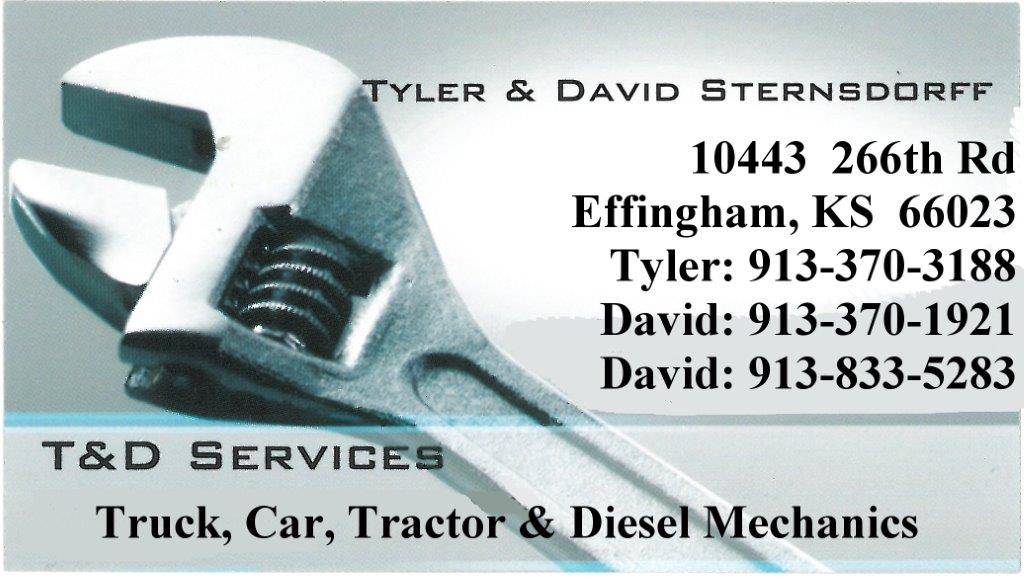 First Presbyterian Church
Twelfth Annual
Rummage Sale & Bake Sale
302 North 5th Street
12Noon - 7PM Thursday, July 31st
8AM - 6PM Friday, August 1st
8AM - 12Noon Saturday, August 2nd
———————————————-
Sweet Corn For Sale $2/dozen U-Pick. Call 913-833-5121.
Can you identify the place or people in the photo?
Last week's photo was the Sinclair family, Lois, Mary, William, John and Bob.
LAST WEEK
Problems with this web site contact cap@thenewsleaf.com Last updated 7-22-2014
<![if !vml]>
<![endif]>